Diplomate, American Board of Infectious Diseases and Critical Care Medicine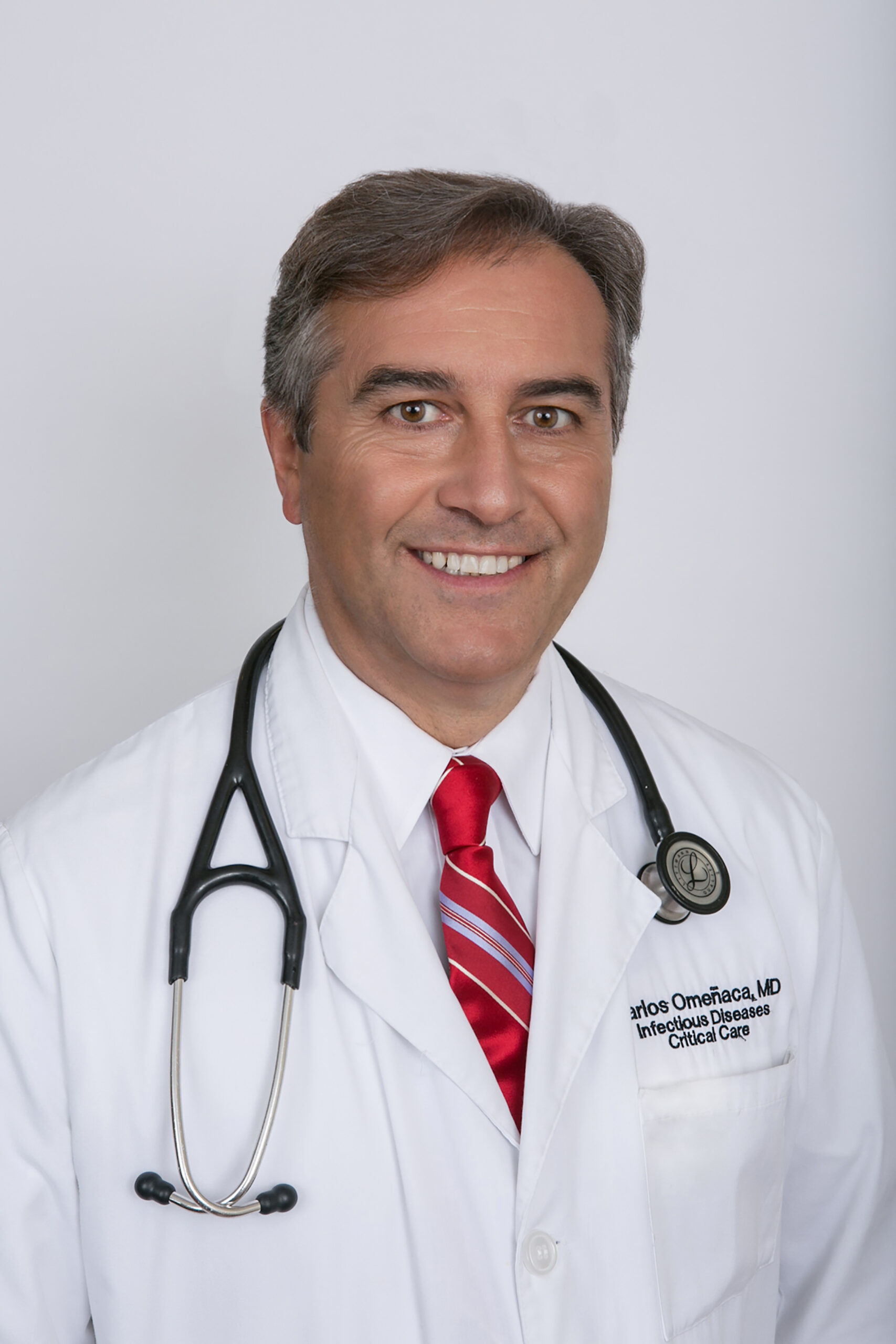 "My greatest reward is taking care of a patient that is critically ill in the hospital and then seeing them back in the office once their condition is resolved or improved. Many times, I can hardly recognize them. It is extraordinary to see them recover from an extremely debilitating condition and months later they are walking, with their energy regained, and able to return to live a normal life. I am truly elated when this happens and that is when I feel rewarded as a doctor."
Dr. Carlos Omeñaca, a native of Spain, has more than 20 years practice experience specializing in infectious diseases and critical care medicine at Miami's leading medical institutions. He received his medical education at Spain's University of Zaragoza and completed his residency in Internal Medicine at St. Luke's Roosevelt Hospital Center, a University Hospital of Columbia University College of Physicians and Surgeons. He continued his post-graduate training at St. Vincent's Hospital & Medical Center in New York City with fellowships in Infectious Diseases and Critical Care Medicine.
Dr. Omeñaca was certified by the American Board of Internal Medicine as a Diplomat in Internal Medicine (1996), Infectious Diseases (1997), and Critical Care Medicine (1999) and has attending privileges at the following greater Miami hospitals:
• Aventura Hospital & Medical Center
• Jackson North Medical Centeer
• Kindred Hospital of Hollywood 
• Mercy Hospital
• Steward North Shore Medical Center
In 2001, Dr. Omeñaca established VilMed, Inc., where he is currently a full-time attending physician in private practice. He works in close partnership with Dr. Maria Gabriela Ale-Castro, allied health professionals, and staff to provide the most current clinical care to patients needing specialized care for HIV and other infectious diseases.
Noted for his ground-breaking work in infectious diseases, Dr. Omeñaca was awarded a Medal of Honor in 2001 by the United States Army Medical Research Institute of Infectious Diseases for his management of the first successfully treated case of bioterrorism-related inhalational anthrax, as well as his active participation in determining the first case of bioterrorist outbreak of inhalational anthrax in the history of the United States. In 2002, he was nominated by the Center for Disease Control for the 2002 Charles Sheppard Award for the article: Bioterrorism-related inhalational anthrax: the first 10 cases Reported in the United States.
Other current clinical appointments include:
• Chairman, Sepsis Committee, North Shore Medical Center, 2016-Present
• Chairman, Infection Control Committee, Mercy Hospital, 2006-2009
• Chairman, C difficile task force, Mercy Hospital, 2006
• Vice-chairman of Medicine, North Shore Medical Center, 2005-2007
• Chief of Infectious Disease Section, Department of Medicine, Mercy Hospital, 2005-2009
• Service Teaching Attending, Department of Medicine, Mount Sinai Medical Center, 1999-2003
• Clinical Care Committee, North Shore Medical Center, 1998-2012
Through his appointment to the Cuban Association of the Order of Malta as Infectious Disease Specialist for Medical Missions in developing countries, he is active with the The Duni Project, where he works to improve medical care for the indigenous population of Sierra Nevada de Santa Marta, Colombia.
Dr. Omeñaca is fluent in spoken and written Spanish and French as well as spoken Portuguese and Italian.
Credentials & Affiliations:
• Diplomate, American Board of Infectious Diseases and Critical Care Medicine
• Infectious Disease Society of America (IDSA)
• American College of Chest Physicians
• American College of Physicians