We are grateful for the opportunity to work with the indigenous population of Sierra Nevada de Santa Marta, Colombia.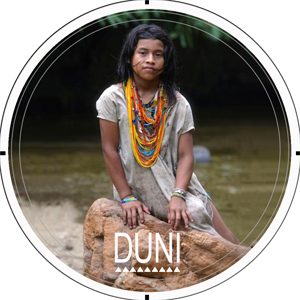 "DUNI", IN THE ARHUACO LANGUAGE, MEANS "THANK YOU".
The Arhuaco people are an ancient tribe indigenous people living in isolated mountain areas of the Colombian Sierra Nevada de Santa Marta forest. So when Dr. Carlos Omeñaca decided to start a project to help improve health in these remote villages, he called it "The DUNI Project".
"We are grateful for the opportunity to work with the Arhuaco people," Omeñaca says. "As
much as we will be there to help improve the health conditions in their villages, we will also learn a lot from their millenary culture and spirituality. For this opportunity, we say 'thanks'".
Because of the difficulty of access to the region – the villages can be reached only by helicopter, or by a long trip involving 4×4 vehicles, a raft crossing and a three-hour mule ride – the Arhuaco people are often left without any health care. The Colombian government sends two to three doctors to the region every four to six months.
The region's nearly 3,000 residents struggle with many deadly, but preventable health problems, ranging from malnutrition and maternal and infant diseases such as pre-eclampsia to tropical diseases, tuberculosis, and even snake bites. For this reason, the leaders of the Arhuaco community requested that a new health clinic be built on the outskirts of the Bunkwimake village. Malteser International, in collaboration with the Colombian and Cuban Associations of the Order of Malta, worked together to finance the construction of a healthcare facility which is in the process of being completed.
In addition to helping to design and build the clinic together with the village residents, the Duni Project will coordinate with government health authorities to provide at least two additional medical missions with foreign and Colombian doctors to the region every year. A water analysis and sanitation project will also follow.
The project continues with the support and guidance from the Fundación Pro-Sierra Nevada, a local NGO working for ecological conservation and protecting the cultural heritage of the Sierra Nevada region. The Order of Malta's Global Fund for Forgotten People supported the project financially.